What is BELRAG?
Alleviating illiteracy;
Enhancing literacy teaching and learning globally, and
Helping to provide materials and equipment for literacy education at different levels.
Like all Action Groups, it is an autonomous association of likeminded Rotarians, partners of Rotarians, and Rotaractors working in partnership with Clubs and Districts on literacy projects of mutual concern.
BELRAG's Mission and Goals
Increasing general awareness of the severity of illiteracy throughout the world; its effect on the quality of the lives of individuals, families, communities and nations from generation to generation.
Increasing awareness among Rotarians, Rotary Clubs and Rotary Districts of ways they can implement basic education and literacy projects that strengthen the capacity of communities to provide education and literacy to all.
Assisting Rotarians, Rotary Clubs, and Rotary Districts to increase the scale and effectiveness of their participation in the alleviation of illiteracy and its consequences - supporting the pursuit of the Object of Rotary by providing programs for both children and adults and reducing gender disparity in education.
Actively collaborate with Rotarians to establish partnerships for projects involving the other areas of focus.
Strategies BELRAG uses to achieve its goals
Publicize the extent and consequences of illiteracy in terms of human experience and welfare using a website, newsletters, pamphlets, diverse other publications, displays, and conferences;
Attract and involve Rotarians, their partners and Rotaractors as BelRAG members;
Develop support systems for Rotary literacy activities, including the nomination of project advisers, and
Develop productive relationships with appropriate non-Rotary organizations and agencies, e.g. International Reading Association
BELRAG's Work
In September, Basic Education & Literacy Month takes on even greater importance for Rotarians this year, as we come to see the the profound impact of the pandemic on education and literacy. Since March 2020, more than 100 countries closed schools for extended periods of time, leaving more than a billion students out of school - and many schools have yet to reopen.
As a result, there is great concern that many children will not return to class once schools are reopened because of economic impact, increased pregnancies, general disengagement from education. Yet we know that before the pandemic 773 million youth and adults could not read and write and 250 million children fail to acquire basic literacy skills (UNESCO 2019) . Despite gains made in the last two decades to improve literacy, school closings during the COVID pandemic threaten to reverse positive trends made toward greater school participation as a result of extended periods of time when children and youth not been able to attend school.

Under Supporting Education – one of Rotary's seven Areas of Focus – Rotarians understand the critical importance of literacy. The ability to read and write is an essential skill necessary for our ability to participate and contribute to society. Literacy empowers people, expands our opportunity to lead a productive and meaningful life. Literate people have access to better employment, improved child and family health, and improved nutrition.

BELRAG supports Rotarians to to address these challenges to enable children to be confident readers and learners. BELRAG is offering three excellent opportunities to assist clubs and districts in their outreach to support literacy in their communities.
Access to books at home and in school promotes a love of reading and better performance in math, sciences and other subjects. BELRAG and RILM (Rotary India Literacy Mission) are partnering with Encyclopedia Britannica to offer Rotarians a special edition of The Illustrated Encyclopedia. This single volume book, full of engaging photos and graphics, is designed to inspire the curiosity of learners, age 8-108. Endorsed by RI President Shekhar Mehta and specially published for Rotarians, this is a tremendous resource for classrooms, libraries, after school, and adult education programs. BELRAG will provide teaching activities for each chapter to assist teachers and parents help engage students and guide them to learning more on the topics presented.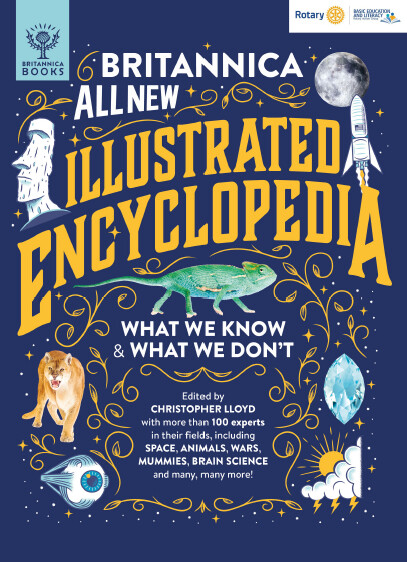 Literacy opportunities in every community
BELRAG Literacy Awards
is an annual opportunity for Rotarians to showcase their community literacy projects. Four outstanding projects will be awarded $400 USD each - with at least one award reserved for a Rotaract project. These awards are intended to promote local community literacy projects - reinforcing BELRAG's belief that every Rotary Club can and should be involved in actively supporting literacy in their own community. Applications are due by 30 September 2021.
Quality Early Childhood Literacy
is the focus of
Together We READ
, the partnership between BELRAG and Save the Children. We are pleased to announce Community Engagement grant opportunities for Rotary Clubs in the US. Up to ten grants of $5000 to $10,000 each will be awarded to clubs engaged with community partners to support high quality early learning programs. School readiness, family literacy, access to quality books and learning resources, increasing community awareness of the importance of early literacy programs, or building capacity for educators and community to support healthy learning development are examples of projects that these grants can support.
Other BELRAG Initiatives
Speaking Books
The Speaking Book is a hard-cover book with 16 pages of colourful illustrations and easy-to-understand text that literally talk to the reader at the touch of a button. Regardless of the level of reading comprehension, literacy, age, illness or geographical area, life-saving information can be accessed and seen, read, heard and understood with powerful results. Each Speaking Book is designed in a way that resonates with the intended population. From text, illustration and soundtracks (often using celebrity voices), the Books are created for and empower local communities and generate excitement around learning and knowledge.
Speaking Books is now working with the Sesame Workshop to create a Speaking Book specifically to help pre-school children learn the alphabet and improve school readiness. A recent study has shown that Sesame Street is comparable to pre-school in terms of school readiness, age appropriate progression and lasting educational benefits particularly for disadvantaged children who don't have the chance to go to pre-school. Our new Speaking Book, introducing the Hausa alphabet to Nigerian children, is not only fun and interactive, it helps children learn to read and write.
Speaking Books together with Sesame Workshop and Rotary International are now planning to join forces to start building a global library for children of Speaking Books on issues like bullying, nutrition, racial and religious harmony, literacy and health and wellness that will be distributed by Rotary members.
Visit the Speaking Books website on
www.speakingbooks.com
for more information and see what people from around the world have to say about this incredible yet simple innovation.
Rotary T-E-A-C-H
Founded by the Rotary India Literacy Mission, Rotary's "T-E-A-C-H" Programme is a multi-component initiative which takes a holistic approach in the war against illiteracy.
T - Teacher Support
E - E-learning
A - Adult Literacy
C - Child Development
H - Happy School
Each of these components has a specific focus and it is interlinked with each other in achieving the common goal of bringing total literacy and improving the learning outcomes of primary education. Find out more out the programme and how it may be able to be implemented in your community by
visiting the T-E-A-C-H website
.
BELRAG Suggestions For Rotarians
10 Ways You Can Support Literacy in Your Community
Volunteer to be a tutor for a child or adult.
Read to children at schools, libraries, and other community locations.
Read to seniors who maybe alone or have vision loss.
Read to your children. Ask them to read to you.
Dedicate one-hour (or ½ hour) every day to reading.
Create incentives for older siblings to read to younger siblings.
Donate to a literacy program.
Build and stock a Little Free Library in a local neighborhood. Restock a Little Free Library near you.
Donate new or like-new books for children in low-income communities.
Get involved with BELRAG and learn more ways to support basic education and literacy in your community!
More information about these programs, projects and initiative is available at
www.BELRAG.org
. Connect with BELRAG to learn how Rotarians are involved in basic education and literacy or to promote your club's BEL projects.